ABOUT



I need to make a formal spot for honda odyssey 2002 my mom gave me. i am trying to rebuild the engine after the timing belt broke

2003 Dodge Dakota 2wd v6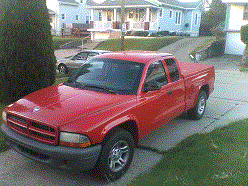 My daily driver which replaces my 1998 toyota corolla. 189,XXX miles on it when it came from florida in 2021. Got into wreck with a pole tore up passenger side of truck and fixed in 2021. I bought it June 2022. Very little rust.
August 2022 - Top mpg so far is 21.5 I haven't been able to do any better.
June 2022 - 224,XXX miles Needs brake pads, blower motor, and vacume leak fixed. Otherwise doing good. 18-21 mpg so far.
July 2022 Went to replace brake pads and found out one of the pins in front passenger brake was rusted stuck and the caliper was bad. replaced front brake pads and front passenger rotar. Took a 500+ mile trip this past weekend it did fine. need to change oil and fix vacuume leak.
September 2023 Its still my daily driver. It has over 267,000 miles on it now. Since last update i have rebuilt front suspention, replaced more wheel bearings, belt pullies, general tuneup. The best mpg i have gotton so far is 21.85 mpg. Can i make it to 22mpg?? I regurally get 20.5 mpg if i don't use a lead foot.

1998 Toyota Corolla LE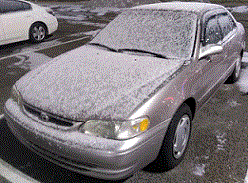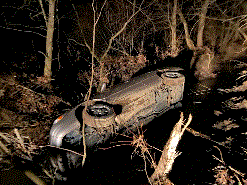 My grandmother gave me this car after i got my drivers license. Its my daily driver. It has the 4 speed auto transmission. She bought the car back in 1999 and it had around 5,000 miles on it. When she gave it to me it had 269,000 miles. As of December 2020 it has 319,000 miles. As of August 2021 it has 331,XXX Miles. As of February 2022 it has 339,XXX miles.
May 2019: Passed 287,000 miles.
July 2019: Passed 289,000 miles. Blew out the rear drivers side strut this month. I plan on replacing all 4 struts and have already bought them. I have replaced the broken strut, but still have 3 more to go.
SOMETIME 2020: I passed 300,000 miles. I forget exctually when but i have pictures of the obo i'll upload later! (I may have lost the picture after phone broke)
Dec. 2020 just replaced power steering pump. The power steering pump pully broke. A new pully costs $100+ for some reason. I ended up going to the junkyard. The coolant ran a little low a few weeks ago, but hasn't moved since. Hope I don't need to replace the headgasket.
Feb. 2021 Car is now past 320,000 miles. It currently needs a passenger wheel bearing. Blew out a tyre driving home one night and now another one is going flat often. I installed another radio into it. Now I can listen to am radio in wide band am and AM STEREO. Not sure what FM Pro is. It claims it has it but I think it has something to do with the turbo encabulator

Some time in between February and September Ive replaced both wheel bearings, new tires, aluminum wheels, lowered it ~2 inches, got it aligned and driving good. And other things i can't remember right now..
September 5 2021 sometime around 1am i crashed the car. I crashed it about 300 miles from home. Now i am trying to put it back together again. I will finish updating this page another day.
October 24 2021 Got the car together. the airbags busted smashing the windshield, seatbelts locked up and frame bent but i have managed to fix it enough to drive it for most of this week. I think i am at 334,000 miles now. I'm not ready to give up my car yet!
February 9 2022 has around 339,xxx miles on it now. Car is still giving me trouble. I've been fixing it alot and it still doesn't run right. Last month I had to have it towed home because it started spraying fuel everywhere and it almost caught on fire. Still runs bad. Seems it has okish and even compression, its getting spark, its getting fuel. Could a vacume leak be causing this, i have no idea anymore. When i get a chance i want to put a new valve cover gasket on and clean out the throttle body again and put new gaskets on the throttle body and replace the o-ring on the timing chain tensioner.
February 10 2022 Replaced valve cover gasket
March something 2022 I flipped my car on its side! I was taking a new way home from the grocery when i ended up hitting some real slick mud and slid my car off the road onto its side in a creek.I am not injured and the car survived pretty good too. I had to call towing company to come flip my car over and pull it out the creek. I ended up driving it home and and still driving it now. I fixed a vacume hose.
May 2022 Now it needs wheel bearings in the rear. wore one of the tires out to the metal treads. speakers started shorting out. i passed 345,000 miles last week
June 2022 Going to put the 98 corolla up for sale. Its at 347,XXX miles and I am tired of working on it. Took my wheels off and cleaned it up some. Now it looks very stock and regular.
I tried to sell it but nobody wanted it. After sitting for 6 months i got tired of looking at it and drove it to my friends junkyard. They crushed the car and that was the end. I really miss my car but it was becoming tired and unreliable. Seatbelts didn't work, windshild was busted, engine only ran on 3 cylinders and burned a quart of oil every few days. I miss my car.



1985 Toyota Corolla RWD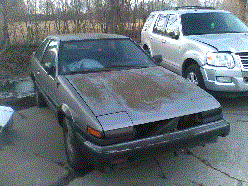 I need to find a wiring harness and a engine computer for a 1UZ-FE engine. Not much progress has been made so far. June 2022-the ae86 is still waiting...

1988 Chevy Beretta Gt

Was given to me after it had hit a deer and sat for about 10 years. It started right up after convincing the fuel pump to work. Only has 101,000 miles and hardly any rust. Already replaced the damaged body panels. Still need to figure out cooling fan and fix rusted brake lines. Not in a big hurry to get it done right now. Don't want the road salt to start eating it away. My top speed 40 mph so far. Here's a poor quality photo and another (dial up beware!!).

update I Ended up finding out the car has a blowen headgasket. I disassembeled the engine and took the heads to get them fixed. Came back to pick them up and they had lost them. I've been working and have not had a ton of time to mess with it since then. I think i know of a good engine, but it may have been scrapped already. I need to check in to that soom
I may just buy a parts car at this point but i have no way of towing it. Hoping to continue this project summer 2022!
June 2022Not sure if i will be able to finish this. Too many other projects, but you never know. I can't predict the future
This project has been abandond!


1998 s10
Need to take a picture of it
Plan on finishing this truck come spring. Have a bit of work to do to it still. Needs brake lines, interior put back together, water pump, and what ever odds and ends. It will be a nice truck once its done. This truck is a pain in the butt.
March 2022: Almost ready to be on the road.If it would just stop being a pain in the butt, i could be driving it!
May 2022: Slowly making progress
June 2022 Its running and driving but it isn't finished yet still have to fix a few things. Stuff i've replaced so far... Starter, battery, water pump, brakelines, abs box, sparkplugs, wires, distrubuter stuff, tires, lugnuts, wheel studs, most of the interior, and maybe more. Security system has been disabled. Still not finished yet.
September 2023 I still have this turd but I want to get rid of it. It runs and drives but i don't ever drive it.

SOLD 1986 Ford F150 2x4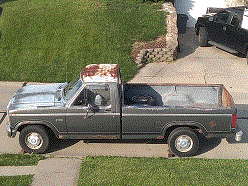 Sold truck April 2021. Old and rusty but dependable. I hope the new owner enjoys the truck as much as i did. Was sad watching the truck drive away. I wanted a truck, so I bought a truck. It currently has 143,000 miles. It is a Straight 6 300 and 4 speed manual transmission. I replaced the universals on the drive shaft, tyres, break bleeders, brake line, headlight switch, sparkplugs & wires, distributer cap. Needed fuel tank and a lot of stuff but ran and drive.

UPDATE September 2023! I have located my old f150. Its been sitting at a auto repair place a few miles away from my home. It hasn't been touched in over a year ;(





SOLD 2004 Chrysler 300m


I bought this car to drive while I was fixing my 98' Corolla from its bucket incident. It wasn't my favorite car but was reliable. I sold it to my friend and he is still driving it. It had 171,xxx miles on it when i sold it. Nothing eventful happened with this car. I replaced the hood on it because it was Bent. I don't have any pictures of it.

UPDATE September 2023! My friend is still driving this car and the car is doing fine. I think he only had to repalce the radiator and tighten transmissin cooling line. Pretty soon it will reach 200,000 miles! I need to get a picture of it.