A work in progress...
Cars I Own
- HOME- COMPUTER- RADIO- CAR- ABOUT


1986 Ford F150 2x4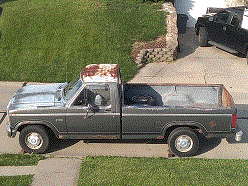 I wanted a truck, so I bought a truck. It currently has 143,000 miles. It is a Straight 6 300 and 4 speed manual transmission.

December 2020: The truck is for sale right now.
---
1998 Toyota Corolla LE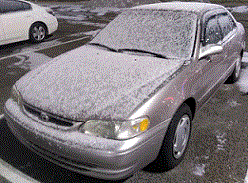 My grandmother gave me this car after i got my drivers license. Its my daily driver. It has the 4 speed auto transmission. She bought the car back in 1999 and it had around 5,000 miles on it. When she gave it to me it had 269,000 miles. As of December 2020 it has 319,000 miles.
May 2019: Passed 287,000 miles.
July 2019: Passed 289,000 miles. Blew out the rear drivers side strut this month. I plan on replacing all 4 struts and have already bought them. I have replaced the broken strut, but still have 3 more to go.
SOMETIME 2020: I passed 300,000 miles. I forget exctually when but i have pictures of the obo i'll upload later! (I may have lost the picture after phone broke)
Dec. 2020 just replaced power steering pump. The power steering pump pully broke. A new pully costs $100+ for some reason. I ended up going to the junkyard. The coolant ran a little low a few weeks ago, but hasn't moved since. Hope I don't need to replace the headgasket.
---
1985 Toyota Corolla SR5
photo coming soon....
I am currently in search of an engine for it. Looking for an LS400. he project is on hold.
---
1988 Chevy Beretta Gt

Was given to me after it had hit a deer and sat for about 10 years. It started right up after convincing the fuel pump to work. Only has 101,000 miles and hardly any rust. Already replaced the damaged body panels. Still need to figure out cooling fan and fix rusted brake lines. Not in a big hurry to get it done right now. Don't want the road salt to start eating it away.
---
2011 Ford Taurus

Wrecked car I'm fixing. Needed a lot of repainting and body work. Now its almost done and looks great! Having trouble getting rear bumper hanger? or whatever its called.