A work in progress...
Cars I Own
- HOME- COMPUTER- RADIO- CAR- ABOUT


1986 Ford F150 2x4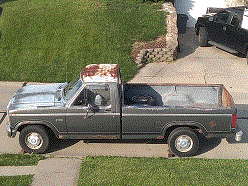 I wanted a truck, so I bought a truck. It currently has 138,000 miles. It is a Straight 6 300 and 4 speed manual transmission.

July 2019: Passed 140,000 miles. I also put a camper top on the truck I got for free. The truck now looks like a grandpa hillbilly's truck.
---
1998 Toyota Corolla LE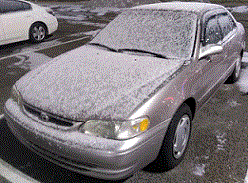 My grandmother gave me this car after i got my drivers license. Its my daily driver. It has the 4 speed auto transmission. She bought the car back in 1999 and it had around 5,000 miles on it. When she gave it to me it had 269,000 miles. As of April 2020 it has 304,XXX miles.
Feb. 2019: i broke one of the front hubcaps trying to put it back on after cleaning it. i put another matching hubcap on few days later.
May 2019: Passed 287,000 miles.
July 2019: Passed 289,000 miles. Blew out the rear drivers side strut this month. I plan on replacing all 4 struts and have already bought them. I have replaced the broken strut, but still have 3 more to go.
2020 I passed 300,000 miles. I forget exctually when but i have pictures of the obo i'll upload later!
---
1985 Toyota Corolla SR5
photo coming soon....
I am currently in search of an engine for it. The project is on hold.