ABOUT

1998 Toyota Corolla LE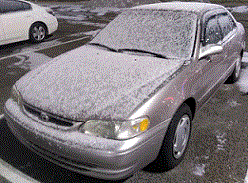 My grandmother gave me this car after i got my drivers license. Its my daily driver. It has the 4 speed auto transmission. She bought the car back in 1999 and it had around 5,000 miles on it. When she gave it to me it had 269,000 miles. As of December 2020 it has 319,000 miles. As of August 2021 it has 331,XXX Miles.
May 2019: Passed 287,000 miles.
July 2019: Passed 289,000 miles. Blew out the rear drivers side strut this month. I plan on replacing all 4 struts and have already bought them. I have replaced the broken strut, but still have 3 more to go.
SOMETIME 2020: I passed 300,000 miles. I forget exctually when but i have pictures of the obo i'll upload later! (I may have lost the picture after phone broke)
Dec. 2020 just replaced power steering pump. The power steering pump pully broke. A new pully costs $100+ for some reason. I ended up going to the junkyard. The coolant ran a little low a few weeks ago, but hasn't moved since. Hope I don't need to replace the headgasket.
Feb. 2021 Car is now past 320,000 miles. It currently needs a passenger wheel bearing. Blew out a tyre driving home one night and now another one is going flat often. I installed another radio into it. Now I can listen to am radio in wide band am and AM STEREO. Not sure what FM Pro is. It claims it has it but I think it has something to do with the turbo encabulator

Some time in between February and September Ive replaced both wheel bearings, new tires, aluminum wheels, lowered it ~2 inches, got it aligned and driving good. And other things i can't remember right now.. September 5 2021 sometime around 1am i crashed the car. Now i am trying to put it back together again. I will finish updating this page another day.
---
1985 Toyota Corolla SR5
photo coming soon....
I am currently in search of an engine for it. Looking for an LS400. he project is on hold.
---
1988 Chevy Beretta Gt

Was given to me after it had hit a deer and sat for about 10 years. It started right up after convincing the fuel pump to work. Only has 101,000 miles and hardly any rust. Already replaced the damaged body panels. Still need to figure out cooling fan and fix rusted brake lines. Not in a big hurry to get it done right now. Don't want the road salt to start eating it away. My top speed 40 mph so far.

update I Ended up finding out the car has a blowen headgasket. I disassembeled the engine and took the heads to get them fixed. Came back to pick them up and they had lost them. I've been working and have not had a ton of time to mess with it since then. I think i know of a good engine, but it may have been scrapped already. I need to check in to that soon
---
---
SOLD 1986 Ford F150 2x4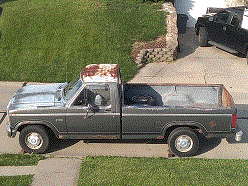 Sold truck April 2021. Old and rusty but dependable. I hope the new owner enjoys the truck as much as i did. Was sad watching the truck drive away. I wanted a truck, so I bought a truck. It currently has 143,000 miles. It is a Straight 6 300 and 4 speed manual transmission.


---